My mother, brother, and sisters loved to read. They regularly checked out books from the local library, and in every room at home someone would be sprawled somewhere with his or her nose buried in one. Larry's favorites were historical adventure stories, dog stories, and biographies. He would buy books when he wanted a special volume, and he read them in his room. Betty read on her bed while Carleen read on the couch, Claudia read on the front porch and Mom read in the kitchen. Dad rarely picked up a book. He had work to do and saw no sense in frittering his life away reading things other than the newspaper and an occasional Reader's Digest or Saturday Evening Post. The family rule was lights out at 10:00. Our father was customarily asleep by 8:30 though Mom stayed up late reading; the kids read under their covers by flashlight far into the night.
On his twelfth Christmas, Larry received a small five-year leather-bound diary, with room enough on each page for three lines per day.
1947 • Diary of Larry Clemens, page one (ages 12 and 13)
Jan 2 I have a collection of 107 books
Jan 3 Quit one paper route in afternoon but retained other afternoon route and two morning paper routes for San Francisco Examiner and Chronicle
Jan 4 Mom gave me her bookcase
Jan 5 Boy Scout films at school
Jan 10 Have about 2,530 different foreign and USA stamps in my stamp collection
Jan 12 Family went for ride to Pinecrest. Carleen & Betty did not go. Ice on lake
Jan 14 My birthday, entered my teens – age 13
Jan 16 Attended boy scout meeting, paid $2 scout dues
Jan 17 Stayed up past midnight to do homework, studied for music test
Jan 20 Took new paper route, back to four routes. Got new bed
Jan 22 Starting to buy pocket books instead of hardcover books
Jan 26 Almost finished reading Huck Finn, bought marshmallows, first ones I have seen in 6 or 7 years or before WWar 2.
Jan 27 Saw movie Boys Ranch, my cousin Pat Conway and 2 other sailors visited us
Jan 28 Snowed, I got to have some snow fights
Jan 30 Attended Boy Scout Court of Honor
Jan 31 Last year I was paid $15 a month for S.F. Examiner paper route and I was offered $20 a month if I would take the route again, so I did
On Jan 21, 1947, Dad was elected to the Sonora City Council: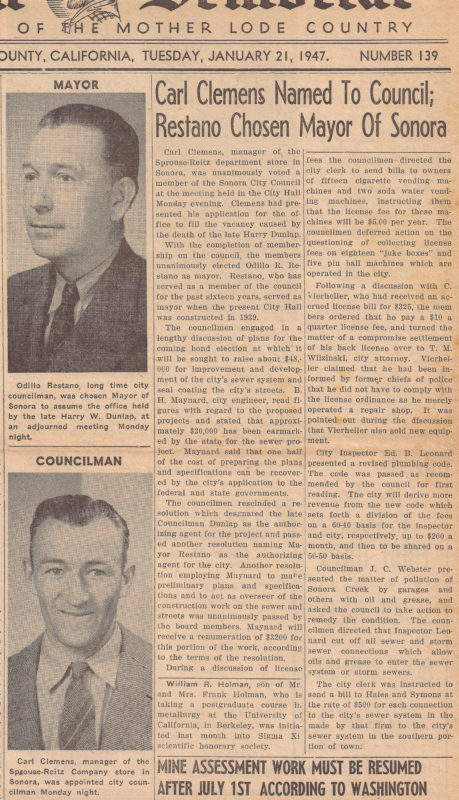 © 2017. Catherine Sevenau.
All rights reserved.
Share this: